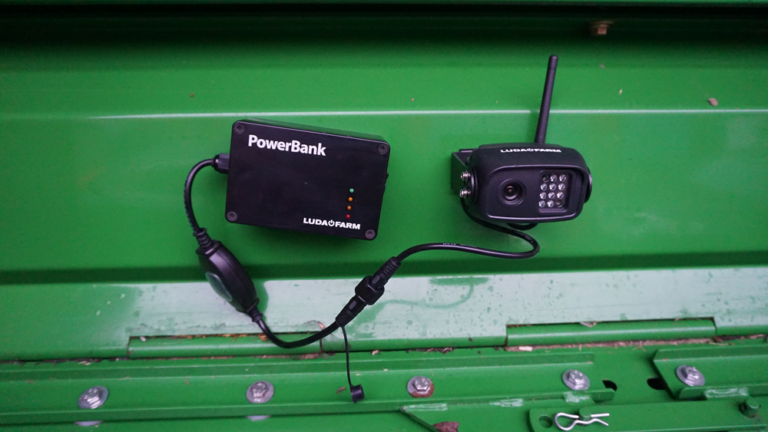 Wireless HD camera system for professionals!
MachineCam HD is a wireless camera system with very high image quality (HD) and long range (300 m). Developed to perform without interference in the toughest of conditions. Often used for harvesting, baling, reversing, etc. For safer and more efficient work. The camera can be used together with the original Luda.Farm Powerbank, a solid rechargeable battery with a very strong magnet (available as an accessory). This allows you to move and place the camera where it captures the best video for you on your vehicle or machine.
The monitor on MachineCam HD is improved with higher resolution, greater clarity + 25% (for sunny days) and the new image format, true 16: 9, that shows the image exactly as it looks in reality. The camera system delivers high definition video in all light conditions. In the dark, the camera's high-powered IR-system lights up approx. 15 meters in front of the camera.
The MachineCam HD screen automatically connects up to 4 cameras and can automatically switch to the reverse-camera when reversing. With the split-screen feature, you can view 2 cameras simultaneously. If you want, you can also record your work. With MachineCam HD, you can use a SD card to easily record and document what you see on the monitor.
The camera is easy to attach, move and place wherever you want.
The previous monitor compared to the new HD monitor
The large monitor makes it easy to see behind the vehicle and it allows you to reverse without turning around or going outside.
PowerBank
When used with a PowerBank which is a 24h battery (available as an accessory), you can move the camera between your machines in seconds. The camera is attached with strong magnets. You simply remove the camera, go to the next machine and place the camera where you want. These magnets are only included if you add a PowerBank to your order. The screen automatically connects up to 4 cameras to the same monitor. With split screen you can view your rear-view and trailer camera on the same screen.
TECHNICAL SPECIFICATIONS
Camera:

Operating
frequency:

2412-2467
MHz

Sensor:

1/4″ CMOS 
HM1246

Effective
pixels:

1280 x
720p

Output Power:

18dBm   

Transmitting
distance:

300 m

Operating
temperature:

–20°C to
+70°C

IP
classification

IP69K

Minimum Illumination:

0 Lux

IR
functionality:

Yes
Night vision: 10 m

Camera angle:

110°

Output
power:

18 dBm

Power
consumption:

Day
240/Night 390 mA @12 V

Cable
length:

3 m
Monitor:

Operating frequency:

2400 – 2483.5 MHz

LCD size:

7"

Resolution:

1024 x 3(RGB) x 600

Wireless range:

Up to 300 m

Time delay:

200 ms

Frames per second:

25 frames/second

Operating temperature:

– 20°C to + 70°C

Brightness:

500 cd/m2

Contrast:

800:1

Channels:

4

Power supply:

10–32 VCD

Power consumption:

Max 8 W

Recording

Yes
Request a Quotation or Download Brochure
Mobilna kamera napravljena za poljoprivrednike
Putem 3G/4G veze i punjive baterije možete postaviti FarmCam Mobility kameru svugdje gdje postoji pokrivenost mobilne mreže. Radi bilo gdje i bilo kada.
FarmCam Mobility savršeno je rješenje za nadzor na mjestima gdje nemate struje ili Wi-Fi vezu. Zahvaljujući punjivoj bateriji i SIM kartici, možete nadzirati svoju imovinu, strojeve, životinje itd. na bilo kojoj udaljenoj lokaciji. Sve dok imate pokrivenost mobilnom mrežom, kameru možete postaviti gdje god vam je potrebna.
Kada se koristi zajedno sa SolarCharger FCM, nećete morati ni razmišljati o punjenju baterije. Drugim riječima, uistinu mobilna nadzorna kamera.
Pametni senzor pokreta registrirat će i snimiti aktivnosti koje se pojave pred kamerom.
Kad kamera registrira aktivnost, bit ćete obaviješteni putem obavijesti na svom pametnom telefonu ili putem e-pošte, pri tome razlikujući tople predmete od grana drveća koje se kreću po vjetru, kiši, muhama itd. Pametni senzor pokreta otklanja lažne alarme i osigurava upozorenje na stvarne situacije.
Druge korisne značajke koje dolaze s kamerom su zoom in, noćni pogled, alarm i dvosmjerni audio (mikrofon/zvučnik). Ako kamera otkrije prekršitelje, možete djelovati izravno razgovarajući s njima ili ih uplašiti aktiviranjem funkcije alarma kamere.
TEHNIČKE SPECIFIKACIJE
Broj članka: 1086
Frekvencijski rasponi Europa: LTE FDD: B1/B3/B5/B7/B8/B20
Radna temperatura: –10 ° C do +50 ° C
IP klasifikacija: Otporan na vremenske uvjete, IP65 (IP66 s gumenim držačem/kožom kamere)
Baterija: punjiva baterija od 7800 mAh (traje do dva mjeseca u stanju pripravnosti)
Solar: Može se puniti pomoću Luda.SolarCharger FCM (prodaje se zasebno)
DC snaga: 5V/2A
Video rezolucija: 1920x1080p, 15 fps
Vidni kut: dijagonala 110 °
Noćni vid: do 10 m
Digitalni zum: 6x
PIR udaljenost otkrivanja: do 10 m
PIR kut otkrivanja: 120 ° vodoravno
Lokalna memorija: Micro SD kartica, max 64 GB (uključeno 16 GB)
Audio: Zvučnik i mikrofon
Veličina: Ø 75 x 113 mm