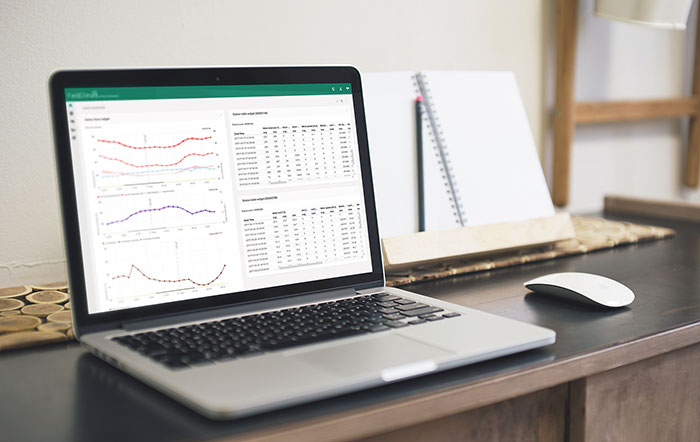 Access the data collected by your iMETOS® system from anywhere at anytime
Agro-Meteorological Data Management in the Cloud
SINCE 2005
FieldClimate was born in 2005 as the first ever web platform for collecting and displaying agro-meteorological data of tens of thousands of weather stations installed all over the world.
FieldClimate New Generation
• Renewed user interface with a widgets structured dashboard, will make FieldClimate more user-friendly and versatile.
• New database structure will make it faster and more flexible.
• Innovative design and improved visualization of data in graphs and tables.
• All the applications and services of the PI holistic solution for smart agriculture are fully integrated.
RENEWED FIELDCLIMATE FOR ANDROID AND iOS OPERATING SYSTEM
In the desire to enrich the user experience and bring the field, and everything that is happening on it, even closer to the iMETOS user, Pessl Instruments developed a new version of FieldClimate for mobile phones. Since January 2020 it is available for both iOS and ANDROID operating system.
Request a Quotation or Download brochure
Enhanced Remote Field Monitoring for a Modern-Day Farmer
Farmview combines existing iMETOS® hardware and software and satellite data for better decision making.
Satellite imaging for next level work planning
Crop zone view for improved field management
Smart irrigation management with Irrimet
Product features
The Basics Remain Unchanged
Access to plant disease models requires seasonal license
Access to weather forecast (hourly, 3-day, 7-day forecasts and more) requires annual license
API integrations are available
Mobile access to all data and push notification on iOS and Android devices
| | | | |
| --- | --- | --- | --- |
|   | FieldClimate | FarmView | FarmView Satellite |
| Overview of all sensor data | Yes | Yes | Yes |
| Device management – Sensor data and settings | Yes | Yes | Yes |
| Soil moisture module with plant available water (PAW) indication | Yes | Yes | Yes |
| Water balance (in mm) | No | Yes | Yes |
| CropZone-based visualization | No | Yes | Yes |
| CropZone management page | No | Yes | Yes |
| Cultivation period and plant specific setup | No | Yes | Yes |
| Soil moisture SUM widget | No | Yes | Yes |
| Irrigation planning calendar | No | Yes | Yes |
| Irrimet module | No | Yes | Yes |
| Sentinel-2 satellite CropZone imagery | No | No | Yes |
| Biomass LAI charts for cloud-free historic satellite imagery for your fields | No | No | Yes |
| Fast access to full history of LAI CropZone maps | No | No | Yes |
*Yes/No – supported features
Request a Quotation or Reach out for additional information
The quickest way to predict the yield of your crop right on the spot
SOLGRADER
The quickest way to predict the yield of your crop right on the spot
Yield calculation SolGrader calculates based on the crop size distribution
Comprehensive data report Tailor-made reports give you all kind of insights into the collected data
Constant update For Android 5.0 up and Apple IOS 10.0 up
HOW ARE YOUR CROPS DOING?
Understanding how your crop is developing is essential in various aspects – from the obvious, estimating the profit, to broader such as food security. SolGrader is an indispensable piece of equipment used for:
Understanding your yield and quality
Delivery estimates: yield estimation during the year is especially important for knowing if you will be able to deliver enough to the contractor.
Insurance purposes
Planning how much space in storage you'll need
Learning on which part of your field crops grow best
Estimating the effects of your cultivation practices (and understanding how to adapt them if needed)
HOW DOES IT WORK?
The SolGrader app allows users to take photos of crops in the field and calculates the estimated yield of their crops and their size on the spot.
The app will calculate the total yield of your crop lot easier and more precise. By means of a crop, the length, width, and measured weight per crop are calculated. Based on the entered data of the field, the expected yield is given. The photo must be made on a special blue mat with a red square and an app with a simple overview of all your crop lots with the calculated sizes and yield.
The SolGrader app allows you to take photos of potato-like shaped vegetables and fruits (onions, beetroots, apples, avocado, …). It calculates the estimated yield of the crops and their size – without needing to move the crop from the field to another location.
Request a Quotation or Reach out for additional information