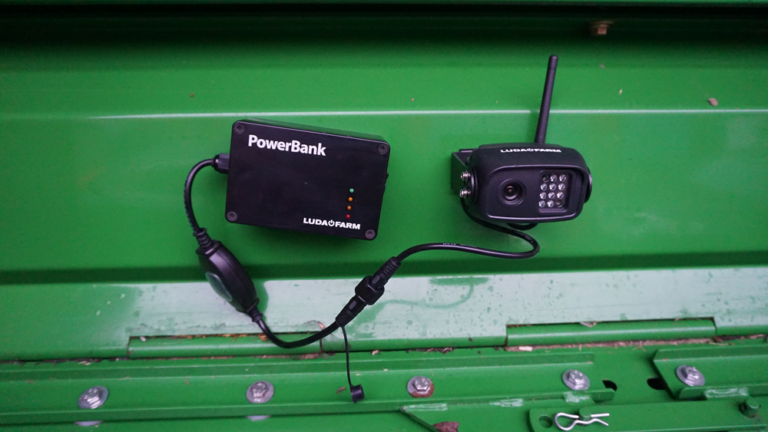 Wireless HD camera system for professionals!
MachineCam HD is a wireless camera system with very high image quality (HD) and long range (300 m). Developed to perform without interference in the toughest of conditions. Often used for harvesting, baling, reversing, etc. For safer and more efficient work. The camera can be used together with the original Luda.Farm Powerbank, a solid rechargeable battery with a very strong magnet (available as an accessory). This allows you to move and place the camera where it captures the best video for you on your vehicle or machine.
The monitor on MachineCam HD is improved with higher resolution, greater clarity + 25% (for sunny days) and the new image format, true 16: 9, that shows the image exactly as it looks in reality. The camera system delivers high definition video in all light conditions. In the dark, the camera's high-powered IR-system lights up approx. 15 meters in front of the camera.
The MachineCam HD screen automatically connects up to 4 cameras and can automatically switch to the reverse-camera when reversing. With the split-screen feature, you can view 2 cameras simultaneously. If you want, you can also record your work. With MachineCam HD, you can use a SD card to easily record and document what you see on the monitor.
The camera is easy to attach, move and place wherever you want.
The previous monitor compared to the new HD monitor
The large monitor makes it easy to see behind the vehicle and it allows you to reverse without turning around or going outside.
PowerBank
When used with a PowerBank which is a 24h battery (available as an accessory), you can move the camera between your machines in seconds. The camera is attached with strong magnets. You simply remove the camera, go to the next machine and place the camera where you want. These magnets are only included if you add a PowerBank to your order. The screen automatically connects up to 4 cameras to the same monitor. With split screen you can view your rear-view and trailer camera on the same screen.
TECHNICAL SPECIFICATIONS
Camera:

Operating
frequency:

2412-2467
MHz

Sensor:

1/4″ CMOS 
HM1246

Effective
pixels:

1280 x
720p

Output Power:

18dBm   

Transmitting
distance:

300 m

Operating
temperature:

–20°C to
+70°C

IP
classification

IP69K

Minimum Illumination:

0 Lux

IR
functionality:

Yes
Night vision: 10 m

Camera angle:

110°

Output
power:

18 dBm

Power
consumption:

Day
240/Night 390 mA @12 V

Cable
length:

3 m
Monitor:

Operating frequency:

2400 – 2483.5 MHz

LCD size:

7"

Resolution:

1024 x 3(RGB) x 600

Wireless range:

Up to 300 m

Time delay:

200 ms

Frames per second:

25 frames/second

Operating temperature:

– 20°C to + 70°C

Brightness:

500 cd/m2

Contrast:

800:1

Channels:

4

Power supply:

10–32 VCD

Power consumption:

Max 8 W

Recording

Yes
Request a Quotation or Download Brochure
A truly mobile camera made for farms
Through its 3G/4G connection and rechargeable battery you can place FarmCam Mobility wherever there is mobile network coverage. Works Anywhere – Anytime.
FarmCam Mobility is the perfect surveillance solution in places where you don't have power or Wi-Fi connection. Thanks to the rechargeable battery and SIM-card, you can monitor your property, machines, animals, etc. in remote areas. As long as you have mobile network coverage, you can setup the camera wherever you need it.
Used together with the SolarCharger FCM you will not even have to think about recharging the battery. In other words, a truly mobile surveillance camera.
The Smart Motion Sensor will register and record activities that appears in front of the camera.
When the camera registers an activity, you will be informed through a notification in your smartphone or by e-mail.
By distinguishing warm objects from tree branches that move in the wind, rain, flies, etc. the Smart Motion Sensor eliminates false alarms and ensures you are alerted to genuine situations.
Other useful features that come with the camera are Zoom, Night Vision, Alarm and Two-Way Audio (mic/speaker). If the camera detects trespassers, you can act by talking to them directly or scare them off by triggering the Alarm function of the camera.
TECHNICAL SPECIFICATIONS
Article number: 1086
Frequency bands Europe: LTE FDD: B1/B3/B5/B7/B8/B20
Operating temperature: –10°C to +50°C 
IP classification: Weatherproof, IP65 (IP66 with rubber mount/camera skin)
Battery: 7800 mAh rechargable battery (lasts up to two months in stand-by-mode)
Solar: Can be charged with Luda.SolarCharger FCM (sold separately)
DC power: 5V/2A 
Video resolution: 1920x1080p, 15 fps
Angle of view: 110° diagonal
Night vision: Up to 10 m
Digital zoom: 6x 
PIR detecting distance: Up to 10 m
PIR detecting angle: 120° horizontal
Local storage: Micro SD card, max 64 GB (16 GB included)
Audio: Speaker and microphone
Size: Ø 75 x 113 mm
Request a Quotation or Download Brochure