A truly mobile camera made for farms
Through its 3G/4G connection and rechargeable battery you can place FarmCam Mobility wherever there is mobile network coverage. Works Anywhere – Anytime.
FarmCam Mobility is the perfect surveillance solution in places where you don't have power or Wi-Fi connection. Thanks to the rechargeable battery and SIM-card, you can monitor your property, machines, animals, etc. in remote areas. As long as you have mobile network coverage, you can setup the camera wherever you need it.
Used together with the SolarCharger FCM you will not even have to think about recharging the battery. In other words, a truly mobile surveillance camera.
The Smart Motion Sensor will register and record activities that appears in front of the camera.
When the camera registers an activity, you will be informed through a notification in your smartphone or by e-mail.
By distinguishing warm objects from tree branches that move in the wind, rain, flies, etc. the Smart Motion Sensor eliminates false alarms and ensures you are alerted to genuine situations.
Other useful features that come with the camera are Zoom, Night Vision, Alarm and Two-Way Audio (mic/speaker). If the camera detects trespassers, you can act by talking to them directly or scare them off by triggering the Alarm function of the camera.
TECHNICAL SPECIFICATIONS
Article number: 1086
Frequency bands Europe: LTE FDD: B1/B3/B5/B7/B8/B20
Operating temperature: –10°C to +50°C 
IP classification: Weatherproof, IP65 (IP66 with rubber mount/camera skin)
Battery: 7800 mAh rechargable battery (lasts up to two months in stand-by-mode)
Solar: Can be charged with Luda.SolarCharger FCM (sold separately)
DC power: 5V/2A 
Video resolution: 1920x1080p, 15 fps
Angle of view: 110° diagonal
Night vision: Up to 10 m
Digital zoom: 6x 
PIR detecting distance: Up to 10 m
PIR detecting angle: 120° horizontal
Local storage: Micro SD card, max 64 GB (16 GB included)
Audio: Speaker and microphone
Size: Ø 75 x 113 mm
Request a Quotation or Download Brochure
The camera system that creates control and safety on your farm
FarmCam HD is a robust and wireless camera system that gives you an overview and control over your farm. 
You can keep an eye on your animals whenever you want and wherever you want through your mobile phone. This will make you feel confident that the animals are doing well even when you're out of place.
By watching the animals at a distance, you can act faster if something happens. For example, during the calving season you can save calves and cows in time if difficult deliveries occurs. In other words, when you buy a FarmCam HD, you invest in the safety of your animals meanwhile reducing your costs. With FarmCam HD you can also monitor unauthorized activity on the farm, such as at the diesel tank.
Connect up to 4 cameras, view and zoom on your screen or watch all 4 cameras at the same time to get an instant overview of several areas.
With night-vision, FarmCam HD monitors your farm day and night. The camera features motion-detection, records both video and sound, and sends notifications and alarms directly to your smartphone or PC if it detects movement outside your working hours.
TECHNICAL SPECIFICATIONS
2,4GHz Wireless Camera
Frenquency Bands: 802.11b/g/n(20MHz):2412-2472MHz 802.11n(40MHz):2422-2462 MHz
Wireless Range:  1250 m with 9dBi antenna
Resolution: 1920 x1080p
Video Frame Rate: 15fps @ 1080p
Angle of View: 90°
IR night range: 20 Meters
Image Sensor: 1/3" 1080P CMOS
Microphone: Embedded mic
Operating frequency: 2422-2462MHz
Power Supply adapter: 100-240V -1,5A
Power to camera: DC12V -1A
Operating temperature:  -20 °C~ 55 °C
IP classification: IP66
Dimensions: Ø70 x 190mm
2,4GHz Wireless Receiver NVR
Frenquency Bands: 802.11b/g/n(20MHz):2412-2472MHz 802.11n(40MHz):2422-2462 MHz
Resolution: Full HD 1080P
Maximum Cameras: 4
Hard Drive included: 1 TB
Video output: HDMI & VGA
Audio output: RCA
Network Interface: RJ 45 Ethernet
Supported systems: Android, Iphone, MAC & PC
Power Supply adapter: 100-240V
Power to receiver: DC12V – 2A
Operating temperature: -10°C~ 55°C
Request a Quotation or Download Brochure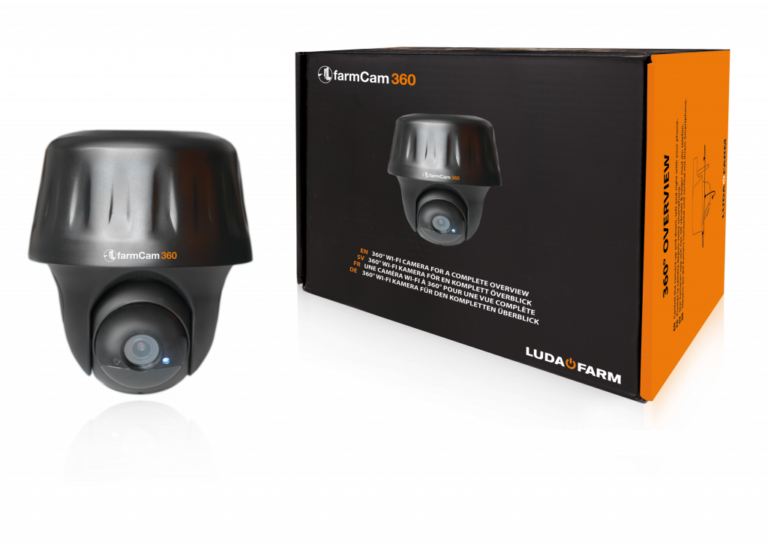 See more with only one camera – cover 360°
FarmCam 360 is a mobile surveillance camera for both indoor and outdoor use that can cover 360 degrees and be used even where you don't have access to power. Built-in battery and the ability to connect to a solar panel gives you a monitoring solution in Full HD regardless of power supply.
FarmCam 360 can be used with a smartphone, tablet, or a computer. It has night vision, sound, motion detection with recording, alarm and a speaker with talk-back function built-in the camera. Weather resistant (IP65). Everything you need is included. 3 year warranty
Use your phone to easily rotate your camera
It's easy to rotate the camera up, down and sideways to get a 360° view. Use the arrows on the phone to rotate the camera in any direction.
The camera has three power supply options:
Supplied mains power adapter, supplied built-in rechargeable battery and Luda.Farm Solar Charger FCM (accessory). If you only use the camera with the built-in battery, a battery charge is usually sufficient for about 2-4 weeks of operation. If you use the camera with the solar panel (available as an accessory), you can charge the battery permanently with solar energy and save manual charging processes.
Another outstanding feature of the FarmCam 360 is its audio functions. The camera is equipped with both a microphone and a speaker. In the app you can have a dialogue with the person in front of the camera or use a recording of your voice to scare off an intruder.
The built-in speaker can also be assigned with an alarm siren function, which is triggered automatically when motion is detected or manually through the app. With the built-in microphone, you can listen in to the environment of the camera at any time.
TECHNICAL SPECIFICATIONS
Technical specifications:
Video:
Video resolution:                                              1080p HD at 15 fps
Viewing angle lens:                                          105 degrees
Pan & tilt camera:                                             355 degrees horizontally and 140 degrees vertically
Night vision:                                                      Up to 10.5 metres
Digital zoom:                                                     6x
Motion Detection & Alarm Messages:
PIR motion detector range:                               Adjustable up to 10.5 metres
PIR detection angle:                                         90 degrees horizontal
Loudspeaker alarm:                                         Siren or voice recording
Alarm messages to users:                               Via push messages and email messages
Other:
Audio:                                                              Loudspeaker and microphone built into the camera
Power supply:                                                  5V/2A
Capacity built-in battery:                                  6,500 mAh
Storage possibility:                                          On the included 16 GB Micro SD card, (max 64 GB)
Can be powered by solar:                               Yes, with Luda.Farm accessory 1091 SolarCharger FCM
Operating frequency:                                       2.4 GHz
WiFi standard:                                                 IEEE 802 11 b/g/n
Operating temperature:                                   -10 C to +55 C
Water protection class:                                    IP65
Dimensions:                                                    142 x 129 mm
Weight:                                                            580 g
Request a Quotation or Download Brochure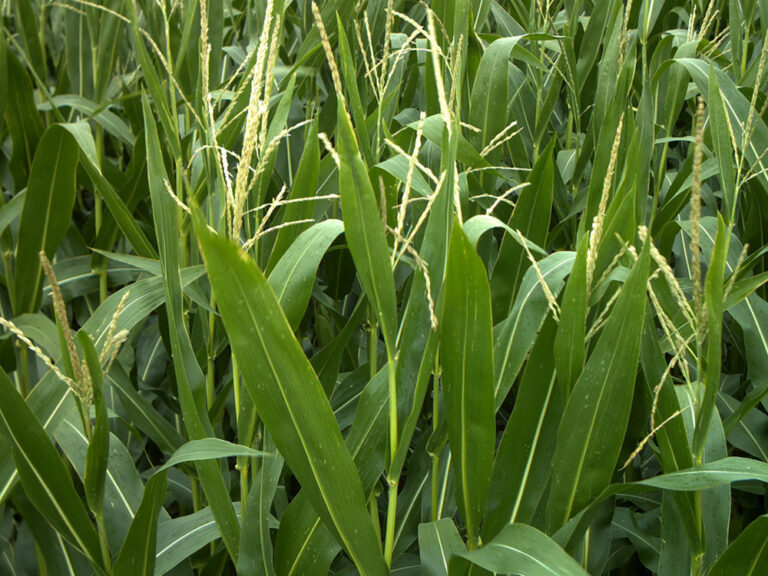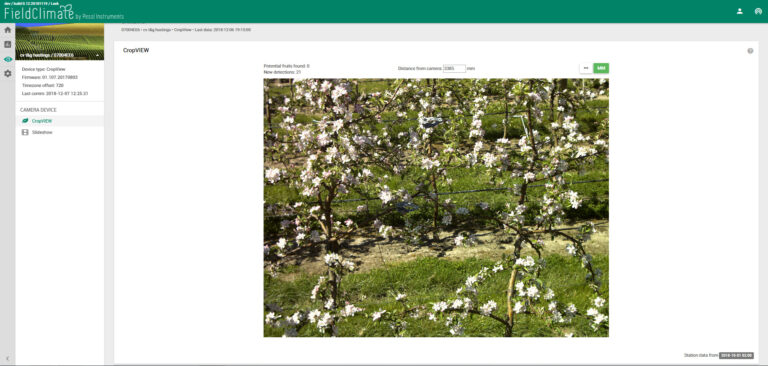 Remote field and crop monitoring​
Your field circumstances, crop condition and fruit growth under full remote control – using state of the art optical camera system supported with artificial intelligence software
With the inspiration of helping the farmer to grow his crop in the optimal and most healthy way, Pessl Instruments GmbH, developed optical high-resolution camera system, together with a computer vision software which is able to recognize objects from the photo (first solution is made for apple fruit recognition). Optical high-resolution camera system is installed in the field to remotely monitor field, crop or fruit. All of the photos and data from computer vision software is displayed online, on a web portal called FieldClimate.
REMOTE MONITORING OF FIELD, CROP AND FRUIT SAVES TIME AND OPTIMIZES USE OF RESOURCES – PRODUCING MORE WITH LESS
The CropVIEW®, is a camera system with integrated electronics (camera, modem, power source with solar panel). It can be installed wherever in the field needed. In the field, the device is self-sufficient, as it is powered by a solar panel and a battery. 10 MP camera takes high-resolution pictures of your field, crop or fruit. Images are sent via mobile network to the FieldClimate.com platform where they are analyzed with automatic detection of fruits (for apples only). The results are then visible on web or mobile devices. As a result, we see a photo with recognized fruits (apple only) as well as measurements of fruit diameters (apple only). Control is real-time and the collected data can be used for further analysis.
HOW MANY STATIONS TO INSTALL?
When installing CropVIEW® station you need to take into consideration the sun position – make sure that your device is not facing directly to the sun, at the time that photos are taken. How many stations will be installed, needs to be decided by the local personnel on farm. It can be one device per growing site, or also more devices per growing site (e.g.: if there are different varieties at the growing site and monitoring of all is wanted).
CropVIEW® VARIATIONS
CropVIEW® DUAL
Equipped with two 10 MP cameras – panoramic and tele.
CropVIEW® Panorama
Equipped with one 10 MP camera – panoramic
 
CropVIEW® Tele
Equipped with one 10 MP camera – tele
 
TECHNICAL SPECIFICATIONS
Housing
Power supply and sensor support box: 41 cm L x 13 cm W x 7 cm H
Weight without sensors
2.2 kg
Camera module
Stainless steel holder with IP65 box 27 cm L x 17 cm W x 9 cm H,
weight: 1.5 kg
Power supply
6 Volt lead acid 4.5 AH battery with solar panel
Model/Type
Cortex M4 processor module with integrated Communication
model for UMTS/LTE operation
Camera and optics
MT9J003 10 Mega Pixel 2/3" CMOS sensors – Optics DSL377A-
650-F2.8 2/3" Lens with 2.5 mm Focal length and DSL901J-
650-F3.0 2/3" Lens with12 mm Focal Length
Request a Quotation or Download Brochure